Happy day-after-Thanksgiving, everyone!
What better way to celebrate the holiday weekend than a Thanksgiving-themed book tag? Luckily for us, the mighty Rachel @The Edge of the Precipice has created the Give Thanks for Books Tag, and very kindly included me. Thanks, Rachel! ❤
~The Rules~
1. Thank the person who tagged you.
2. Fill out the tag.
3. Share the tag graphic in your post.
4. Tag four friends.
5. Provide a clean copy of the tag for easy copying.
~The Questions~
G — A book you're Grateful to a friend for recommending
In My Father's House by Ann Rinaldi was recommended to me by the lovely Olivia @Meanwhile in Rivendell! I can't remember if this was the first Ann Rinaldi book I read, but I think it may have been… and it's definitely the book which cemented Rinaldi as one of my favorite historical fiction authors.
In My Father's House is that rare creature: a novel about the Confederacy which isn't pro-Confederate. You will find no nostalgia for the Lost Cause here. Rinaldi doesn't romanticize the plantation system. She doesn't pretend her wealthy white protagonists were "best friends" with their slaves and "couldn't possibly" have known slavery was wrong. On the contrary, she holds them accountable for exploiting Black lives and Black labor.
This novel also contains the richest, most emotionally nuanced father-daughter relationship I've ever seen in fiction. Which is hilarious, because it's technically a stepfather and his stepdaughter, but you could swear they were bonded by blood, they're so much alike. Proud, strong-willed, and gloriously stubborn. They deserve each other… and I mean that in the very best (or possibly the very worst) way. 😉
I — A book that fires your Imagination
I'm going cheat a little and name a whole series rather than a single book. The Raven Cycle by Maggie Stiefvater kindles my imagination like no other. I've raved about this series over and over, so I won't bend y'all's ears again, except to say The Raven Cycle brings ancient magic and ancient legends into the everyday world in a truly extraordinary way. 15/10 would recommend.
"Tell me," he said, "when you dream, do you dream of the stars?"
V — A book with a Vivid setting
Death Comes for the Archbishop by Willa Cather easily wins this category. Cather's tale of two French missionaries wandering the mountains and deserts of New Mexico is saturated with color, crammed with rich, lavish imagery. Cather is the kind of author who can easily spend two whole pages on a single tree or sunset or skyline when she really gets the bit between her teeth, and you sit back and let her, because she's bloody brilliant, that's why.
Death Comes for the Archbishop reminds me of a Georgia O'Keeffe desert painting, equal parts vibrant and soft.
E — An Encouraging book
All Out: The No-Longer-Secret Stories of Queer Teens Through the Ages. It's an anthology of stories about queer kids in a variety of settings around the globe and throughout history. I found it refreshing and inspiring to watch these characters quietly "being themselves," refusing to let society dictate their desires or their destinies.
And the variety! Holy smokes, the variety! I mean, we've got a Red Riding Hood retelling starring a transgender French soldier and a Mexican peasant girl. We've got two young women running away from their respective weddings to become cross-dressing lesbian pirates in colonial Virginia. We've got forbidden romance between two maidservants in King George's palace in London. Oh, and we've got transgender Robin Hood, aka The Only Valid Robin Hood From Now On, Everybody Else Go Home.
(I've never liked Robin Hood in any of his more traditional iterations, but this Robin, I would die for.)
T — A book that Taught you something
The Chosen by Chaim Potok stands out in my mind as the book which taught me… oh, so many things. For one, it taught me it's okay to cry openly when you read something sad. 😉
But The Chosen also taught me other, more abstract lessons. That pain and suffering are a common denominator which connect us all. That there are many different ways to serve God. That there's nothing wrong with having complicated feelings about your parents, even when (especially when) you love them.
H — A Happy book
Rook di Goo by Jenni Sauer strikes me as a happy book, even though it's fraught with Danger and Peril (TM) throughout. Found family stories in outer space generally make me happy… especially if they take place on a cozy little spaceship with a cozy little space kitchen, like Rook di Goo.
*Marie Kondo voice* "This sparks joy."
A — An Amusing book
The Girl in Blue by P.G. Wodehouse never fails to make me chuckle. This book is a fairly underrated gem in the Wodehouse canon, probably because it was published near the end of his career (1970) and because it's a standalone novel which doesn't include Jeeves, Bertie, or any of his well-known heroes. Which is a pity, because The Girl in Blue is an absolute corker of a comedic romp. A decrepit country estate, a weedy but lovable landlord up to his ears in debt, a broker's man trying (and failing) to pass as a butler, and a priceless eighteenth-century Gainsborough miniature (believed stolen)… it's P.G. Wodehouse at his best.
N — A New-to-you book or author you discovered this year
The Adventures of Huckleberry Finn by Mark Twain! My only previous exposure to Twain's work was The Adventures of Tom Sawyer, which I found boring. Just a bunch of kids mucking about in a cave, you know? But Huckleberry Finn dramatically raised the stakes, weaving a tale of a perilous journey, a fugitive slave, and a naive young boy groping his way towards an awakening of conscience. I was thoroughly swept away.
K — A fictional character you feel a Kinship with
I've always felt a deep kinship to Scout Finch from To Kill a Mockingbird by Harper Lee. You probably figured that already, since I've kept her photo as my profile picture for years. 😉 Scout and I are stubborn, emotional, sensitive, hopelessly inarticulate (in face-to-face conversations, at least), and consumed with a deep desire to punch the world in the nose when it's being stupid.
S — A book you want to Share with others
The Long Way to a Small, Angry Planet by Becky Chambers! More people definitely need to read this book! It's a found family road trip through space peppered with spicy ethical dilemmas that don't get in the way of a cozy happily-ever-after. What's not to love?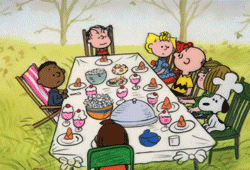 ~Clean Questions List~
G — A book you're Grateful to a friend for recommending
I — A book that fires your Imagination
V — A book with a Vivid setting
E — An Encouraging book
T — A book that Taught you something
H — A Happy book
A — An Amusing book
N — A New-to-you book or author you discovered this year
K — A fictional character you feel a Kinship with
S — A book you want to Share with others
I'm not going to tag anybody, since Thanksgiving is behind us and I don't want to pressure people to do the tag if they feel it's no longer the season… however, if you want to answer these questions on your blog (or even in the comments), please do!! I'd love to see your answers!
Happy holidays, my loves!