Good morning, young Padawans.
On Day 1 of the Everything Star Wars Blogathon, I wrote about why I love Disney Star Wars (aka "the new stuff").  For Day 2, I'm going to be ranking "the new stuff," all recent Star Wars content, according to my own personal enjoyment.
These weren't easy rankings to come up with, mind you.  Because I love them all!!!  But … I've done my best to reflect the exact hierarchy of my feelings towards each.
Shall we begin?
Number 6: The Force Awakens
I know, I know.  *cringes and hides*  This is the movie which started it all!!!  The movie which kicked off Disney Star Wars and brought the franchise back to life, after decades of slumber.  How could I possibly be so cruel as to rate it last?
Idk.  It's a solid, well-paced story, and I had tremendous fun seeing it on the big screen (the first film I ever saw in theaters, so jot that fun fact down) … but emotionally, it grabs me less than the others.  We're still getting to know Rey, Finn, Poe, and Kylo/Ben, so there's less room for the GUT WRENCHING FEELZ which characterize the rest of the trilogy.  And you know I love me some gut wrenching feelz. 😛  In their proper place, of course, in their proper place.
Finn & Poe busting out of that First Order ship, though?  *chef's kiss*  Perfection.  The hope and joy on Finn's face when Poe not only befriends him, trusts him, but gives him a name for the first time in his life …
… we stan.
Number 5: The Mandalorian
This show would be much higher on the list if I didn't have to skip so many scenes because Violence.™
The core of the story, however–strong, silent soldier's inexplicable bond with innocent, helpless-seeming baby–is G O L D.  Just taken as a character (outside the context of the show, which often #stresses me #out), Mando has rocketed to a nice cozy spot amongst my top ten male heroes.  He's quiet, steady, detached, efficient, licensed to kill … yet somehow, completely in thrall to this tiny green creature.  The faintest hint of something bad happening to Baby Yoda is enough to freeze Mando in his tracks.  (right before turning him into more of a killing machine than ever, of course)
I swear: I cannot get enough of their moments together.
Number 4: Solo
An unapologetically fun heist movie, a gloriously swashbuckling hero's journey, and some jolly good forbidden romance … what's not to like??  I loved Solo!!  I can't believe it took so much flak from SW audiences: but that's neither here nor there.  Point being, I thought this was a great story.
I'm also gonna come right out and commit Star Wars heresy by admitting I like Alden Ehrenreich's version of Han Solo better than Harrison Ford's original version.  *smiles beatifically and waits for the explosion*
He's just more to my taste, m'kay?  He's less aggressive, less in-your-face, less insufferably cocky.  He knows he's in over his head, he knows he's not a real smuggler or a real pirate, but by golly, he's determined to have the time of his life pretending to be one.  He's just a little boy waving a big gun, and I LOVE HIM.
See?  Perfection.  My Son.™
Number 3: The Last Jedi
I adore The Last Jedi and Rise of Skywalker in very nearly equal measure, so it was reallyyyyyyyyyyyy hard to put one above the other.  In the end, I put RoS on top because it concluded the trilogy in such a brilliant, satisfying way and gave me the happiest Happy Feels of the three films … but don't let that fool you.  I love, love, LOVE The Last Jedi.  I am baffled by its detractors, but shan't waste much time talking about them, when I could talk about all the reasons it brings me joy, mmmmm?
Luke's redemptive arc, Poe's character growth, Rey's steadfast maturity, Kylo's dramatic descent into unhinged madness–IT SO GOOD.  Luke Skywalker, in particular, became incredibly relatable through this story.  I'd never had much interest in him before, but watching him admit his real, raw mistakes and rise to the understanding that he is more than his mistakes, was very illuminating for me.
Plus, that ending scene.  Talk about a badass way to die.
Number 2: The Rise of Skywalker
*clutches heart and rolls on the floor*  THIS MOVIEEEEEEEEEEE.
No, it's not perfect, by any means.  The stuff with Rey, Finn, and Poe almost feels like a separate orbit–a separate story with its own aesthetic (warm & deserty)–compared to the stuff with Rey and Ben (swooshy & dark & mysterious).  But if you think I care about those technical flaws more than I care about mY PRECIOUS DISNEY PRINCE AND PRINCESS, REY SKYWALKER AND BEN SOLO:
ur wrong.
The redemption arc, the Prodigal Son allegory, the slow-simmering romance that only comes to a boil when it's the right time … 'tis masterfully, lovingly, delicately handled.  True magic.  A blessing.  More than deserving of my Number Two spot, methinks.
Number 1: Rogue One
Y'all knew this was coming, didn't ya?
What can I say about this masterpiece that hasn't been said a million times before????  Rogue One is that rare film creature, a tightly plotted, 100% cohesive, never-a-dull-moment, adrenaline-pumping adventure that doesn't sacrifice one WHIT of emotional depth to get there.  It takes a slightly tired formula–"Will this ragtag band of misfits pull together to save the day for a military organization that never really cared about them?"–and rises above those cliches to reach the final Plane of Enlightment where only the best movies go.
It's the story of teamwork.  The story of found family.  Unexpected romance.  True love.  The ultimate sacrifice.
"What have they brought us?"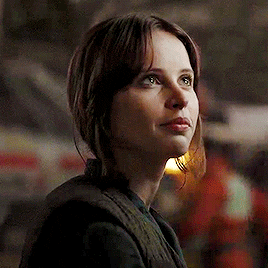 "Hope." 
~~~~
So there y'all have it!  My Disney Star Wars rankings.  Do you agree with my choices?  Disagree?  Which of these movies was your favorite?
Let's chat!