The Everything Star Wars Blogathon has officially begun!!!!
Who's excited? BECAUSE I'M EXCITED!
*blaster fire in the background*
Don't pay those Storm Troopers any mind, darlings. They'll never manage to hit anything. 😛
For Day One of the blogathon, I've decided to kick things off by writing about why I love Disney Star Wars. Disney Star Wars (The Force Awakens onwards, basically) is my favorite Star Wars … although I'm well aware not every fan in the galaxy feels the same. xD For some people, Star Wars stopped being Star Wars in 2015. Well and good. For me, Star Wars really only got started in 2015. I watched the original trilogy as a child and enjoyed the aesthetic and some of the characters (R2-D2! jawas!), but it never had a huuuuge hold over my imagination. Things changed five years ago, when Rey, Finn, and Poe burst onto the big screen for the first time. Since then, I've only gotten more hooked with each new story released.
So gather 'round, children, and let me tell you why I love Disney Star Wars.
Redemption Arcs.
I am wary of redemption arcs.
I suppose I ought to like the idea in theory, since, y'know, Grace and Forgiveness and all that … but it's so often mishandled, I am more suspicious than anything else when I see a story dangling a redemption angle to hook audiences in.
So imagine my shock when Disney Star Wars managed to pull off not one but THREE redemption-centric stories IN A ROW, all three of which I ACTUALLY LOVED. I refer, of course, to the "Bendemption" in the sequel trilogy, Mando's character arc in The Mandalorian, and Jyn and Cassian's dual redemption in Rogue One.
What sets these redemption stories apart? What draws me to them?
Ultimately … they won me over by subverting the stupid tropes which made me hate redemption arcs in the first place.
Allow me to elaborate.
I've written elsewhere about how Ben Solo's character progression in The Last Jedi and Rise of Skywalker is a theologically On-Point allegory for the Prodigal Son. But let me reiterate here: Rian Johnson and JJ Abrams earned my everlasting respect by refusing to bow to the "romance can save you" schtick. Particularly the "love of a good girl can save you" schtick. Which I hate with the power of a thousand burning suns, so don't get me started. 😛
But Rey doesn't save Kylo Ren.
Rey THINKS she can save Kylo Ren. Rey walks into that throne room in The Last Jedi with every intention of saving Ben Solo from himself. She knows he has feelings for her, and she reaches out to him, believing those feelings will be strong enough to bring him to the Light. If he wants her so much, he'll change … right?
Nooooooooooooooope. Kylo Ren doesn't want Rey to pull him to the Light: he wants to drag her to the Dark. And so, they fight.
They keep on fighting. They fight all the way up to the midpoint of Rise of Skywalker, when Ben Solo hears a new voice calling him to the Light … and this time, it's not the voice of the girl he selfishly hopes to "possess." It's the voice of the woman who gave him flesh and blood from her own womb.
That's right: HIS MOM. His mother's intervention, his mother's unconditional forgiveness, becomes the catalyst he needs to break free. Marian allegory, anybody??
(Told ya this movie's spiritual messaging was solid. #happycatholic)
Instead of Ben's attraction to Rey being his main motive to change, his attraction only comes to fruition after Ben decides to change for other reasons. After he's obeyed his mother's call, and spoken with his father, and hurled his burning red lightsaber into the sea. It's just … it's very, very good, okay?? And I am very, very happy.
The Mandalorian goes one step further and throws romance out of the redemption equation altogether, in favor of Single Dad Vibes and Found Family Feels. Which is ENTIRELY EXCELLENT. Though a cold-blooded killer, Mando finds grace through his decision to protect this tiny child from certain death–a child who can (as far as he knows) give him nothing. He accepts the task with no hope for reward.
This would be impressive enough if Mando were just putting his life on the line as a one-time deal, but it's more than that. He's signing up to raise a kid. He's welcoming a small, messy, toddling creature into his living quarters–into his life–with no prior training, and no clear "out" in sight. Sure, he's supposed to search for Baby Yoda's birth family in Season 2, but I very much doubt he finds them. I have a feeling he and Baby are stuck with each other for a long, long time. If I were in Mando's shoes, I'd be terrified. I think he is terrified, actually: but he's not backing down. Hardened assassin or not, you gotta hand it to the guy. He is determined to be a Good Dad.
Because he loves that little green munchkin.
Meanwhile, the Rogue One redemption, though it definitely revolved around romance, pleased me by presenting two characters who were equally flawed, instead of one "good" character and one "bad" one. I look askance at stories where one of the partners in the relationship is trying to "level up" to the other: but I am a SUCKER for stories where broken people become each other's saving grace. Which absolutely happened with Jyn and Cassian.
It feels a little weird to talk about Cassian Andor's redemption arc, given how the fandom … glosses over it? Everybody remembers Jyn's dark side, her diamond-in-the-rough harshness, her "me, myself, and I" attitude. Cassian, by contrast, is presented as the Soft Precious Angel Boy Who's Never Done Anything Wrong in His Life.
Which I mean … it's understandable. Look at those eyes.
But in his very first scene, Cassian guns somebody down in cold blood. Somebody who TRUSTED HIM, if you'll recall. Cassian just straight-up slaughters the guy. I don't care how technically "necessary" it was for the Resistance mission: THAT IS NOT THE ACTION OF AN INNOCENT MAN. Cassian is bruised, jaded, with some pretty dark deeds weighing on his soul. And what does he need? He needs someone to hold him to a higher standard. Someone to remind him to fight for goodness, fight for hope: not just fight for the sake of fighting.
Jyn Erso becomes that someone. Even as Cassian shows her how to belong to a family again, to trust a team bigger than herself. They save each other, and it's beautiful.
Cassian and Jyn represent one of my favorite romantic tropes, the Bad Boy/Badder Girl (y'know, a play on Good Girl/Bad Boy.) Cassian's over here going "I am a bad man … a Hardened Man … I Kill People for the Cause," and then Jyn catches his eye–Jyn, who is absolutely f e r a l and will kill you over a tuna fish sandwich–and Cassian PERKS RIGHT UP like "ooh, this one, I like this one," with K2-S0 facepalming in the background. Love it, love it, love it.
Strong Women.
Nobody should be surprised that I love Disney Star Wars for showcasing strong female characters. I mean, come on. That's all I ever talk about, right?? 😉
But let's delve a little deeper.
Whether people acknowledge it or not, the fact that women are front & center in these new stories is a big reason why Disney's take on Star Wars has been so maligned in the darker corners of the Internet. (To those who claim Star Wars is unfairly "female-dominated," I'd simply ask them to point to a single SW movie where women made up more than half the main cast–and then we'll talk.)
But personally, I am thrilled at the strong female presence in these stories, and I'll tell you why.
For too long, women had to be content with a shadow presence in action movies and war movies. They were part of the cast, sure, but everybody knew girls weren't allowed to do the "real work," the heavy lifting of driving the conflict forward. Which is an unacceptable double standard, based on gender and not on individual ability or preference. I'm not saying all women should be able to fight. I'm saying some women, in a story explicitly about fighting, should be able to fight. There is a time and a place for traditionally feminine characters; but there is also a time and a place for equal-opportunity badassery, and the Star Wars universe is most definitely THAT PLACE.
And Disney Star Wars has proven beyond a shadow of a doubt that they know it.
I can't overstate how important these women are to me. The simple act of choosing a woman–Rey Skywalker–to be the Jedi hero around whom the new trilogy revolves: that's H U G E. Star Wars had never done it before. Putting a lightsaber in Rey's hands, putting her behind the controls of the Millennium Falcon, putting her, in short, in the "driver's seat" of the whole saga: that sends a powerful beacon of hope to women around the world (and women right here in the good ol' United States *ahem*) who still hear the message that they're followers, not leaders. Every woman deserves to see herself as the protagonist of a shining, glorious adventure. Because, in the end … we should each be the protagonist for the adventures of our own lives. That's what adventure stories symbolize in the first place. The adventures of our lives, where it's up to us to seize the helm. Female or male.
But the strength of the female representation in Disney Star Wars doesn't depend on Rey alone. There are so many other strong, outspoken women actively involved in the Resistance fight. General Leia Organa (GOD BLESS OUR QUEEN) has made the natural transition from political and diplomatic leader to military commander. She's been calling the shots for decades; we all know that. Her new title of "general" just gives her that much more hands-on control. I mean, who else would you rather see at the head of your army?? I'd follow General Leia any day. And so would Poe Dameron.
Admiral Holdo in The Last Jedi–I know a lot of folks were irritated by her, but I actually thought she was pretty cool. First of all, she's played by Laura Dern and she rocks an amazing purple hairdo, so #yourargumentisinvalid 😛
But more seriously, Admiral Holdo is a fascinating example of a female character who "doesn't need to be" a woman. Thus (I suspect) a lot of male fans felt threatened by her: she's taking up one of the side-character slots which, a few years ago, would've been given to a man without question. But that's exactly what I mean when I say I want more female representation!!! Give us female characters even for subplots which don't technically NEED a woman. And give us female characters who aren't always likable, whose decisions can be disputed or seen from opposing angles (re: the endless debates whether Holdo Should Have Told Poe All She Knew, or Not.) My take on it is, a) Holdo's reticence seems consistent with her character's personality and unique position, and b) Holdo's reticence and subsequent sacrifice spur some pretty awesome growth for Poe Dameron himself. He learns something from interacting from Holdo: he matures from a hotshot hero to a strategic leader, someone who can trust those in power above him while protecting and guiding those placed below him. In those final scenes of TLJ, when Finn is all for rushing out to save Luke Skywalker and it's Poe with his newfound strategic thinking who holds him back, "no, no, he's doing this for a reason–he's giving us a chance to escape, because we are the spark that will light the fire that will bring down the First Order," and you catch Leia smiling her proud mother's smile in the background, "what are you looking at me for? Go follow him," WE LOVE TO SEE IT. We love to see it, folks.
*sustained applause for my Good Son who Learned his Lesson*
Looking beyond the sequel trilogy, we find more great examples of women warriors. Jyn Erso from Rogue One is a brilliant female protagonist, a hissing, fizzing mixture of fierceness and softness which feels entirely her own. Busting out of jail one minute, rescuing a helpless little girl the next–we never quite know what Jyn will do next. Which keeps us on our toes, mm?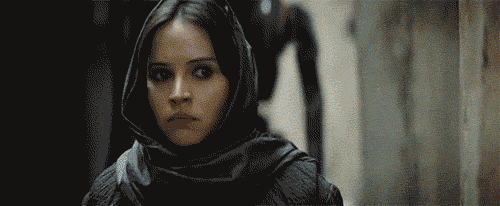 It makes me chuckle to note that Jyn is based on the "rogue" archetype, the "lone wolf troublemaker" with a "secret heart of gold" who (I need hardly point out) is almost always a man in our fictional universes. We're used to the Rogue/Scoundrel being a guy, not a girl. But this isn't to say Jyn is acting like a man, trying to be a man, trying to show up men: or any of the rest of it. She's being her own self, and her own self happens to be … well, a rather attractive scoundrel. 😛
I would be remiss not to mention Cara Dune in The Mandalorian, who can (and does) go head-to-head with our big, tough Mando whenever it becomes necessary. She's a force he respects, as she respects him in turn. She's calm and competent, but never stoic: she's got a definite sense of humor and her mouth does this adorable little smirk whenever she sees something funny. She balances out Mando's silence. I ship them, I admit, but that's not my only reason for liking Cara: I just like that she's there, y'know? Being strong and powerful and badass … and fun.
~~~~
I could go on and on (and on) about why I love Disney Star Wars, but at the end of the day, it basically comes down to the two main reasons I've laid out. Disney Star Wars handles redemption arcs well, and represents women well. I appreciate that.
How about you? Let's chat!
And don't forget to come back tomorrow for more "Everything Star Wars" posts!